Tunes & Tacos: A Totally 80s Taco Bar & Dance Fundraiser
Tunes & Tacos: A Totally 80s Taco Bar & Dance Fundraiser
Warm up your crimper.
Put on your leggings.
Stretch for your best Moonwalk.
It's one week away!
Join us for a totally tubular time on Friday, November 24, for our FUNdraiser, Tunes & Tacos: A Totally 80s Taco Bar & Dance. Just think…an all you can eat taco bar, a drink token, and gnarly tunes, while supporting a good cause!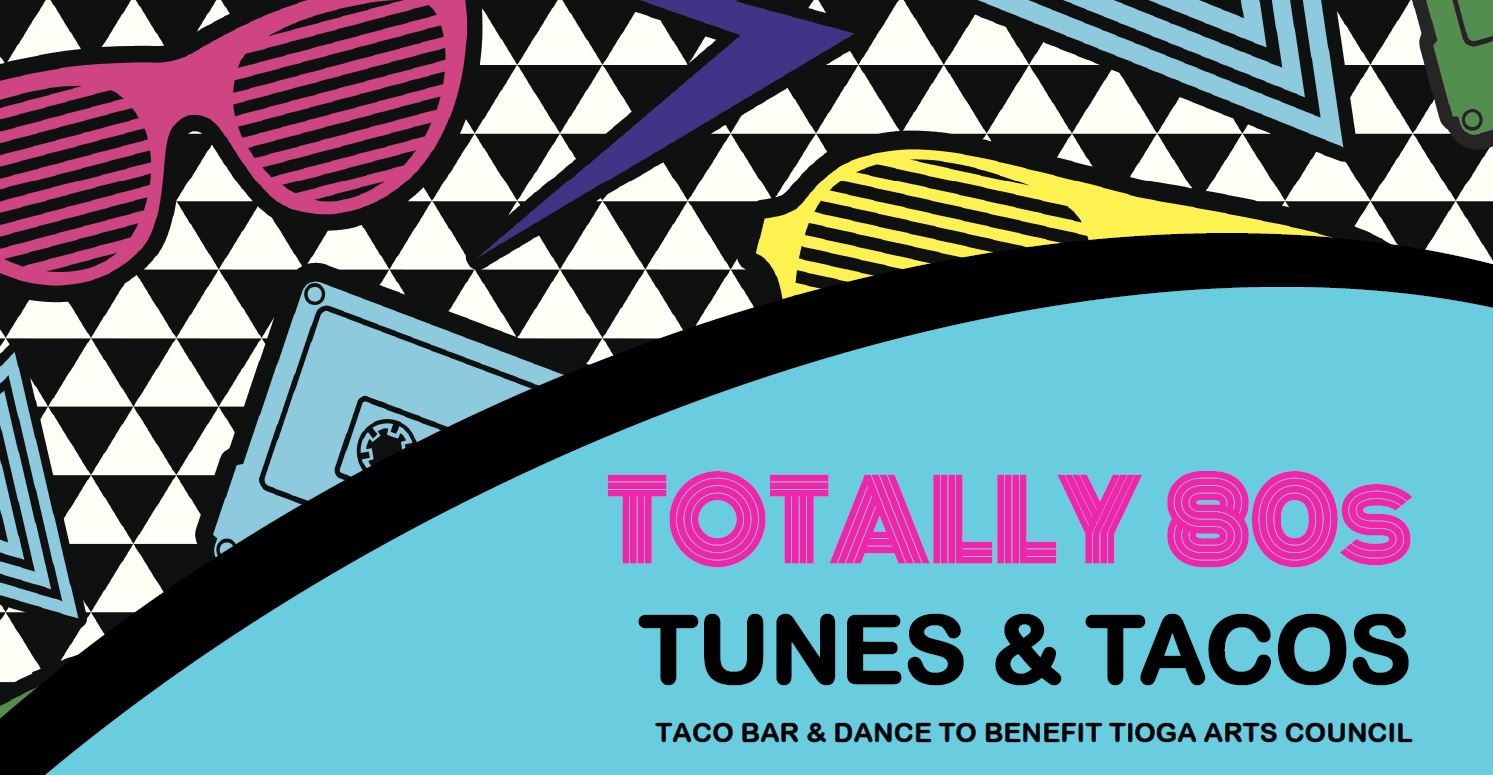 Proceeds to benefit the Tioga Arts Council (TAC). Tickets are $20 in advance ($25 at the door). To purchase tickets, click HERE or purchase one at either:
• Tioga Arts Council, 179 Front St., Owego
• Las Chicas Taqueria, 208 Front St., Owego
Other Ways to Support TAC
The season of giving and gratitude is upon us, and there are many ways you can support TAC!
AmazonSmile
Want to financially support TAC with almost no effort at all? Considering making us your charity of choice on AmazonSmile. Every time you make a purchase through your Amazon account, the AmazonSmile Foundation will donate 0.5% of the price of your eligible purchases to TAC. For details, click HERE.
Membership
In addition to signing up on AmazonSmile or making a donation, you can support TAC by becoming a member, renewing or increasing your level of membership, or giving the gift of membership today.
---
Fall Happenings
Below are a series of community offerings from TAC and other organizations. Check them out and mark your calendars:
– Celebrating the Life and Art of Robert Merwin (11/18)
– Owego Rotary Arts & Crafts Fair (11/19)
– Artfully Ornamental (Submissions due 11/25/17)
– Small Business Saturday (11/25/17)
– Giving Tuesday (11/28)
– Artfully Ornamental Fundraiser Kick-Off (11/30 & 12/1)
– Halcyon Days: The art of Michael Husted (12/1/17)
– Kids' Night Out: The Polar Express (12/9/17)
– December Lego Club (12/13/17)
---
Our vision is to inspire and support a vibrant, creative community in and around Tioga County.
We'd love to hear from you!
Tioga Arts Council
179 Front St.
Owego, NY 13827
www.tiogaartscouncil.org
607-687-0785
tiogaartscouncil@gmail.com